Summer of 2020 to Fall of 2021
Artist talk Thursday, July 29 at the MD-365 offices,
Six Old Firehouse Lane, floor 2 in Northeast Harbor.
Public invited.
Exhibition organized by Sunne Savage.
---
24 large sculptures on public view
City of Gainesville, Florida
Screen Sculpture #11
Capricorn
Screen Sculpture #83
Gladiator
Sculpture in every city park

In collaboration with the City of Gainesville
Parks Recreation and Cultural Affairs Department
Russell Etling, Cultural Affairs Manager
Through Summer of 2020
(Extended to 2023)
---
Baker Park
City of Naples, Florida


Vertical Motif #12


Voyager


Seal
In collaboration with Naples Parks & Recreation Department, Dana Souza, Director
Eight large David Hayes sculptures
Exhibit continues through the Fall of 2021.
---
Sculpture in Downtown Danbury, Connecticut
With CityCenter Danbury, Betsy Paynter, Director
Totem (detail)
On public view through the Fall of 2021.
---
On permanent display outside of Coral Gables City Hall in Coral Gables, Florida:
Quadraped 2, 2011.
The sculpture is on exhibit at the invitation of Mayor Raul Valdes-Fauli with the guidance of the Coral Gables Department of Historical Resources and Cultural Arts; Dona Spain, Chair; Catherine Cathers, Arts & Culture Specialist. The City of Coral Gables subsequently included the artwork in their permanent collection by unanimous vote of the City Commission.
---
David Hayes Sculpture at the Jundt Art Museum
Spokane, Washington

August 1, 2014 to July 31, 2015
Exhibit extended to Fall 2016.
Curated by Paul Manoguerra, Director
---
Screen Sculpture #20, 1986.
Bellarmine Museum, Fairfield Connecticut

Sculpture is on display outside of the Quick Center for the Arts at Fairfield University
from September, 2015 to September, 2017
Exhibition extended.
---
Art Around Dothan: Sculpture by David Hayes
November 1, 2013 to October 31, 2014
Opening reception is Tuesday, October 29, 2013
from 6 to 8 pm
The Wiregrass Museum of Art
126 Museum Avenue, Dothan, Alabama
Sculpture images here
(from a previous exhibit; Dothan installation photos to be posted in mid October)
Curated by Dana-Marie Lemmer
Joe Sette, Executive Director
---
David Hayes
Sentinel Sculptures at the
Fort Wayne Museum of Art

311 East Main Street
Fort Wayne, Indiana 46802
(260) 422-6467
June 27, 2013 to June 27, 2014
Exhibition curated by Charles A. Shepard III
---
Peter Einstein photo
David Hayes:
Hanging Screen Sculptures at the Lutz Children's Museum
March 15, 2013 to March 15, 2014
Reception with the artist
5 to 7 pm
Friday, April 5, 2013
The Lutz Children's Museum is located at 247 South Main Street in Manchester, Connecticut.
Overflow parking available next door at the Manchester Country Club with courtesy shuttle service.
Museum namesake Hazel Lutz was the artist's grammar school art teacher.
Story by Susan Dunne of the Hartford Courant:
http://www.courant.com/entertainment/arts/hc-david-hayes-0217-20130217,0,6293670.story
Story by Kym Soper of the Journal Inquirer:
http://www.journalinquirer.com/towns/coventry/lutz-to-showcase-work-by-coventry-sculptor-who-was-founder/article_dac35e72-988c-11e2-96b9-0019bb2963f4.html
---
Sculpture at Goodwin College
East Hartford, Connecticut
Exhibition runs September 2011 to September 2012
Exhibition extended to December, 2012 and partially re-extended.
---
On loan to the Garrison Art Center
Garrison, New York
Screen Sculpture #24, 1986
---
David Hayes Sculpture
at the Snite Museum of Art
May 27 to August 31, 2013
The Snite Museum is located at
100 Moose Krause Circle on the campus of the University of Notre Dame in Notre Dame, Indiana.
Tel: (574) 631-5466 - sniteartmuseum.nd.edu

Waterfall, 1998, painted steel, 98 x 30 x 30 inches.
Postage for the announcement card is a gift of the artist's friend, Richard Byrnes '54
Catalog of the exhibition is here
---
David Hayes Sculpture
at the
University of Kentucky Art Museum
Lexington, Kentucky

Curated by Janie Welker
August 1, 2012 to July 31, 2013
Arrowhead
Sculpture at One North Broadway
White Plains, New York
Exhibition dates November 2008 to November 2012
Exhibition has been extended.
---
David Hayes: A Sculptor of Space and Nature
January 11 – February 17, 2013
Please join us for a reception
on Sunday, January 20, 2013
3:30 – 5 p.m.
Elizabeth Myers Mitchell Gallery
St. John's College
60 College Avenue – Mellon Hall
Annapolis, Maryland
Telephone (410) 626-2556
An exhibition of outdoor sculptures will continue through the summer.
Audio file of the art lecture is here:
David Hayes.MP3
(43 mg file)
---
David Hayes Sculpture
January 5 to February 8, 2013

Contemporary Art Center
305 SW Water Street
Peoria, IL 61602
(309) 674-6822
Review by Leslie Renken of the Journal Star is here:
http://m.pjstar.com/jstar/pm_29472/contentdetail.htm?contentguid=4T0eyl9t
---
David Hayes
Sculptures at the WSU Downtown Art Gallery
September 11 – October 27, 2012
Westfield State University
Downtown Art Gallery
105 Elm Street, Westfield, Massachusetts
---
On view at the Huntsville Museum of Art in conjunction with Huntsville's Spaces Sculpture Trail
Exhibition runs November 2010 to November 2011; extended to summer 2012
Gladiator
On view at Alabama A&M University in conjunction with Huntsville's Spaces Sculpture Trail
Screen Sculpture #75
---
David Hayes
Small sculpture, gouaches and new Totems
Garrison Art Center; Garrison, New York

February 4 to 26, 2012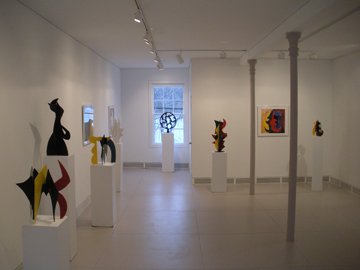 ---
David Hayes Small Sculpture
George Waters Gallery
Elmira College, Elmira, New York
Exhibition runs October 20 to November 20, 2011
---
Art to the Avenue
Greenwich Avenue, Greenwich, Connecticut
On view Summer 2010:
Cygne at One Pickwick Plaza, Greenwich
Oracle at 299 Greenwich Avenue, Greenwich
Anteater at 299 Greenwich Avenue, Greenwich
Exhibition curated by Tatiana Mori on invitation by Dorianne Hutton Samuels with support from Connie Cowen.
---
On view at Boscobel in 2010
In conjuction with the CURRENT show through Garrison Art Center
Six Totems:
Sabrina:
Exhibition on view May 21 to October 11, 2010.
Boscobel Museum is located at 1601 Route 9D, Garrison, NY 10524 - Tel 845-265-3638
---
On view at the Garrison Art Center
Screen Sculpture #24, 1986
Screen Sculpture #113, 2005
in conjunction with the CURRENT show curated by Barbara Smith and arranged by Martee Levi.
23 Garrison's Landing, Garrison, New York 10524; information at 845 424-3960.
Exhibition on view May 21 to October 11, 2010.
Screen Sculpture #24 extended to a loan.
---
The Greenwich Arts Council Presents In The Bendheim Gallery
Fathers & Daughters
David Hayes & Mary Hayes Siegrist
Richard Byrnes & Susan Byrnes
April 29 – May 29, 2010
299 Greenwich Avenue, Greenwich, CT 06830
Curated by Tatiano Mori
---
Solomon R. Guggenheim Museum
The Sweeney Decade: Acquisitions At The 1959 Inaugural

June 5–September 2, 2009
On view:
Animal and Young, 1957
Photograph by David Heald, ©2009 The Solomon R. Guggenheim Foundation, New York. Used with permission.
---
David Hayes in White Plains:
Sixty two Large Sculptures on Exhibition 24/7 at One North Broadway, Library Plaza, Tibbits Park and Public and Private Areas Throughout White Plains for an Entire Year
Exhibition runs from November 2008 to November 2009
Exhibition has been renewed through September of 2010.
Exhibition sponsored by the Office of Mayor Joseph M. Delfino, Heyman Properties, Schonberger Foundation, Belway Electric, RPW Group, Inc., Shinnyo-en Foundation Bridge of Friendship, White Plains Sculpture Committee, City of White Plains Recreation & Parks, and the Department of Public Works.
For the media: Photos of the Artist
---